2- then click again on the 'Open with TOPCAT' icon.
Time series
Spectroscopy/individual spectra
Stellar Parameters
Others
Welcome to the Seismic Plus Portal
An astero- and helioseismic Portal to promote the awareness and the use of existing seismic data within the stellar physics community and beyond.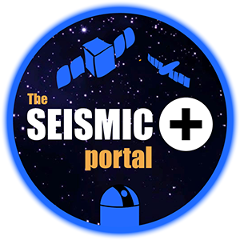 Starting guide
Star identifier(s)
Entry point of the Seismic+ portal is star identifier. You may use fully qualified name as described at CDS
Dictionary of Nomenclature of Celestial Objects
.
The portal will try to resolve CoRot, Kepler and 2Mass identifiers from local database, any other identifier is submitted to SIMBAD.
The search form lets you submit a single star identifier or a file with a list of star identifiers (one identifier per line).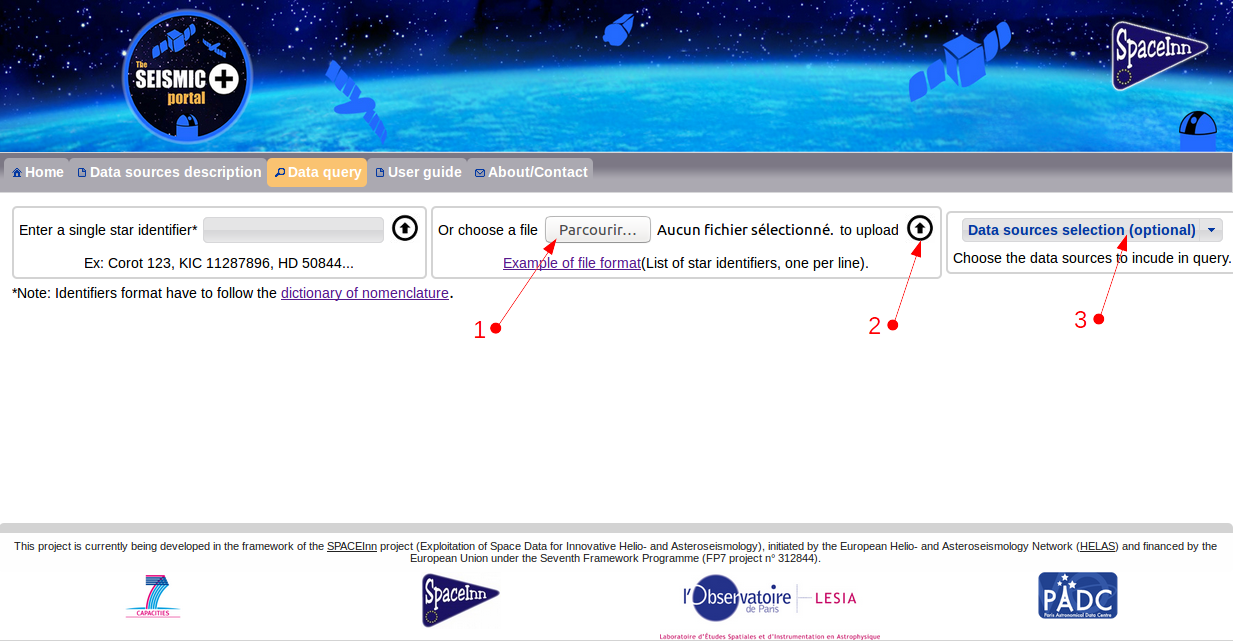 Submitting a file is done by first choosing a local file (1) then submit it (2).
Optional menu 3 allows to select catalogues included in the query.
Results tab
This tab shows data availability in different catalogs, for each submitted identifier.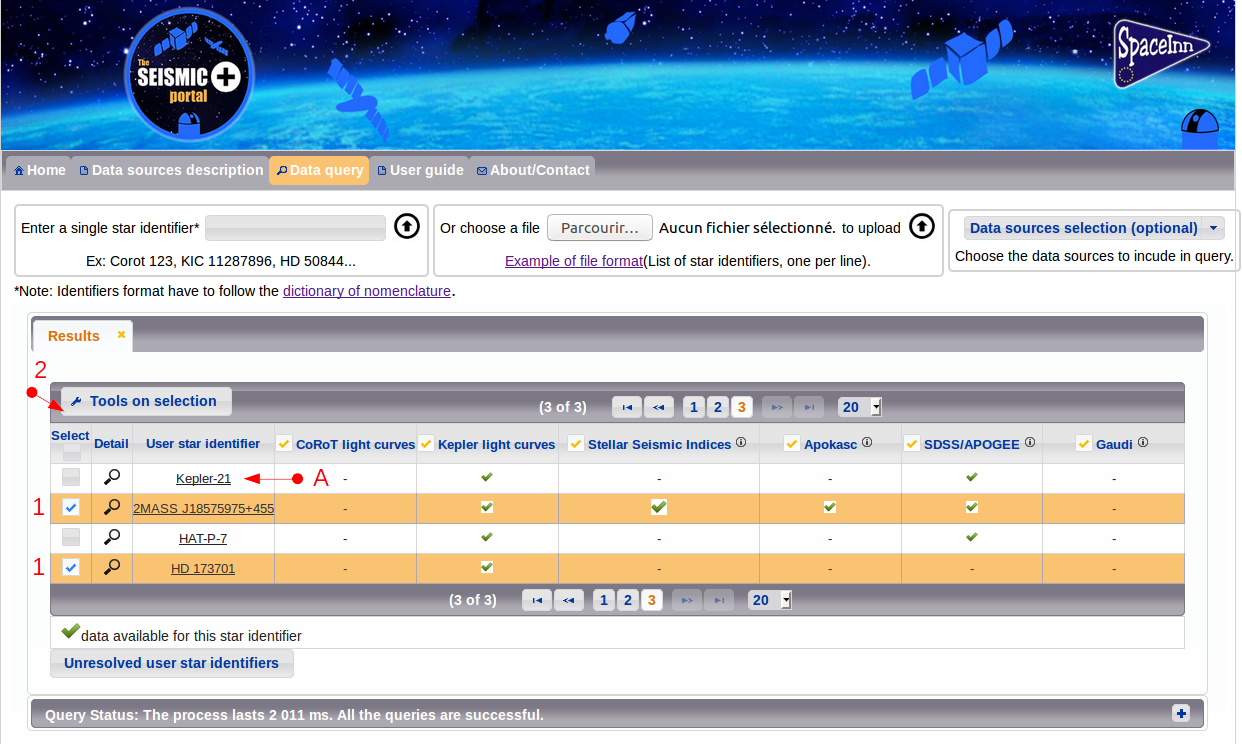 From here, you may:
click on an identifier (A) or on to open a tab with detail results for this star ,
select rows (1) and click (2) to download the result in CSV or VOTable format or to launch Compute tools for the selected star identifiers
Star tab result
This tab contains detail results for a single star identifier:
Star information (alias, position...),
Stellar parameters values found for Teff, log g, [Fe/H],
Stellar Seismic indices values found,
Light curves found
Spectra found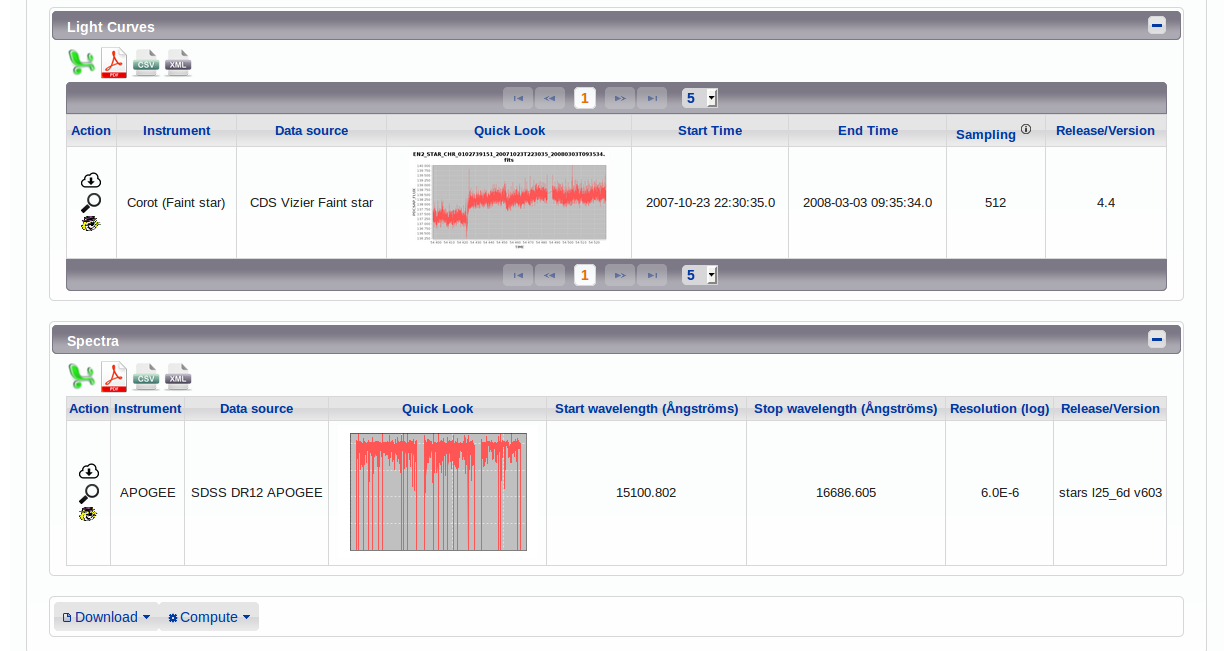 Click on

to download light curve or spectra data.
Click on

or the quicklook to open a graph with light curve and FFT or spectra data (see image below).
Click on
to load data file in TOPCAT.
Click on Download to get result for this star identifier in CSV or VOTable format.
Click on Compute to launch Compute tools for this star.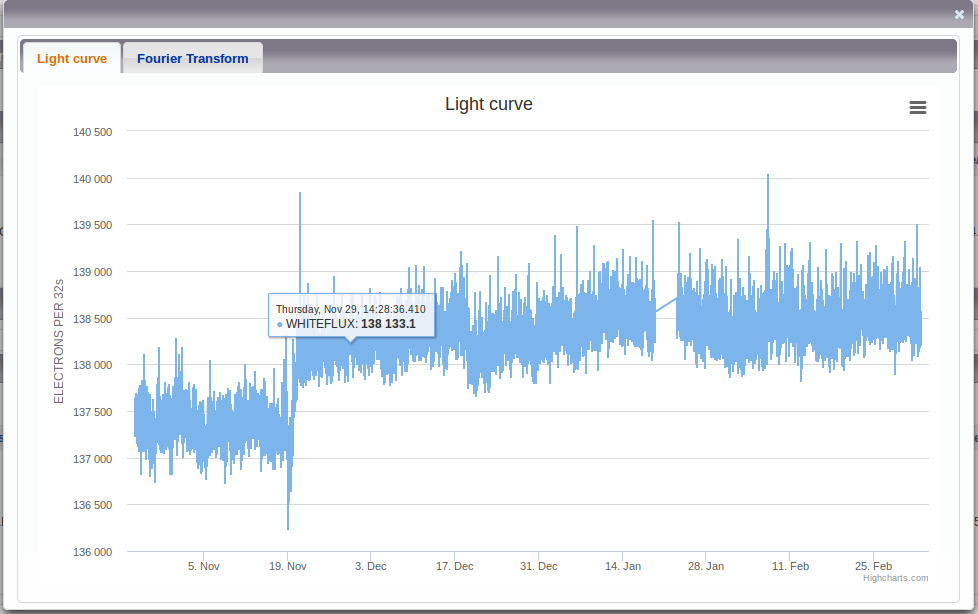 This project is run by Observatoire de Paris-Lesia with the support of the Centre d'Expertise Regional PADC. It has been developed in the framework of the SPACEInn project (Exploitation of Space Data for Innovative Helio- and Asteroseismology) financed by the European Union under the Seventh Framework Programme (FP7).
Contributors:
Project scientists: K. Belkacem & E. Michel
Project manager: C. Renié
Software and data base development: M. Abed, G. Lin, C. Renié
Graphic artist: SIGAL - S. Cnudde
Technical supports: Groupe informatique générale du LESIA, Paris Astronomical Data Center (PADC)
For questions regarding the Seismic Plus portal project or the website, please contact: seismicplus.lesia at obspm.fr
LESIA - Observatoire de Paris 5 place Jules Janssen 92195 Meudon cedex France
2022/09/02
Gaia DR3 added from Centre de données de Strasbourg VizieR catalog I/355/gaiadr3
Transiting Exoplanet Survey Satellite (TESS) light curves added from MAST TAP service
Resolver strategy modified
Optimization of response times
Optimization of the summary results tab
2023/05/31
Computation of Seismic Teff from numax, delta_nu and luminosity
Add choice of number of rows to display in results tab